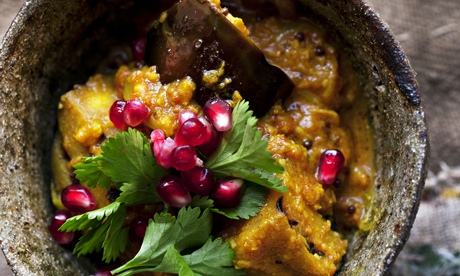 Recipe taken from the guardian
Serves 2
onions 2 medium
oil 3 tbsp
coriander 1 tsp, ground
cinnamon 2 tsp, ground
black mustard seeds 2 tsp
turmeric 2 tsp, ground
tomatoes 4, medium to large
ginger 65g
garlic 4 cloves
aubergine 1 large or 2 smaller ones
coriander a handful of leaves
pomegranate seeds of a small one
Peel the onions, roughly chop them, then leave to cook in the oil in a deep, heavy-based pan over a moderate heat. Stir them regularly so they don't burn, letting them soften and turn pale gold in colour. Add the ground coriander, cinnamon, mustard seeds and turmeric, stir, and then continue cooking.
Meanwhile, put the tomatoes, chopped but unpeeled, into a blender or food processor with the ginger and the peeled cloves of garlic. Process to a thick purée then pour into the onions, stir and continue to simmer gently.
Slice the aubergine in half lengthways, then in half again and then into short lengths. Warm a griddle pan and let the aubergine pieces cook until they are soft and lightly charred in neat lines on all sides. Gently fold the aubergines into the tomato and onion and continue to cook for a few minutes, correcting the seasoning with salt.
Spoon into bowls or on to plates and serve with coriander leaves and pomegranate seeds.